What Does The Perfect Home Office Look Like in 2021?
12 July 2021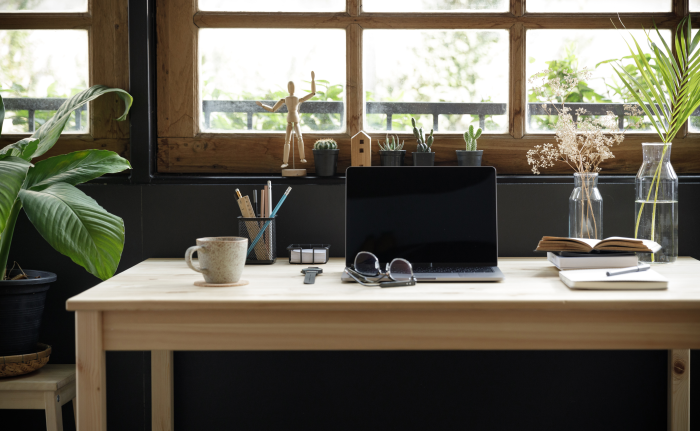 What a year 2020 was! From staying at home to working from home, our lives changed dramatically. Included in these changes was the sudden need for a home office. You might have found yourself frantically clearing out the spare room or rearranging your dining room to make way for this new way of working! But that was all last year! Now, if you have been wondering about what your home office in 2021 should look like, we got you covered. Let's take a look and get some inspiration to turn your home office into the perfect working space for you.
Colour Me Pretty
The importance of color in a personal space like your home office cannot be overstated. Colors can affect and shape our mood, cause excitement, reduce or increase the tension in our environment and even have a calming effect on a tired person. Make sure you select colors that not only beautify your home office but also match the color and theme of your home. You must also consider your working style to decide whether to use vibrant or neutral colors, use colors that improve your level of focus and the availability of space. Colors are the smile of nature that directly influences our soul, creativity, and productivity.
Invest In Comfortable Furniture
Now that you have selected the right color that will help you be creative and productive, the next step is to choose the appropriate furniture. For you to be productive and ensure that your creative juices are flowing, it is vital for you to get the appropriate furniture that guarantees you comfort. Failure to get the right one will not only make you less productive, but it can also harm your health. Make sure you pick functional furniture, suits your style, and also fits into your office space. And it is of utmost importance that you choose an ergonomically correct chair, has lumbar support and armrests, and sufficient seat width and depth.
Add Indoor Plants
With the right furniture in place for comfort, the next step is to add some green to your home office. Plants do not only beautify your home office, but they also come with some health benefits. Indoor plants guarantee you better air quality by absorbing toxins and other air pollutants, plants can also boost your immune response and thereby decrease your sick days. To ensure your plants thrive and grow faster, buy LED grow lights, as they are durable and can perform for as long as 102,000 hours. LED grow lights are energy-efficient, safe for the environment as they produce less heat and also guarantee the most amount of plant growth possible per season.
Add That Intimate Touch For Inspiration
Plants guarantee you cleaner air and other health benefits while adding that intimate or personal touch will give you the right motivation for your job. It is important to add an intimate touch to your office, as it will give you the necessary motivation to get the job done. Seeing that family picture on your table or wall will inspire you to go the extra mile for each project or task. Make sure you add your family pictures or that wall art with your favorite motivational quote to help you personalize your home office.
Let The Light In
The next step in creating your perfect home office is to select the right light to illuminate your space. For your home office, it is important to let in as much natural light as possible, but do not neglect the importance of artificial light as well. Natural light will help improve worker's satisfaction and productivity, reduce eye strain and drowsiness, and improve your mood. Artificial light can help you create the right ambiance in your home office, beautify your indoor space, and will come in handy whenever you choose to work at night.
Conclusion
By applying all the steps outlined above, you will not only have a personalized and comfortable home office, but also one that increases your productivity. Make sure you also write down a budget before buying the necessary things needed in your home office. And also ensure you take breaks and choose a location that helps you eliminate any possible distractions.
---