Paylab referral program
How Paylab referral program works?
What is a referral program?
A referral program is simply a process in which you promote or recommend a product or service and you will get reward for it.
So, any customer can become a referral partner. He/she can place the link for Paylab into his/her website or blog and motivate users to click on it.
Example from Emiero.com: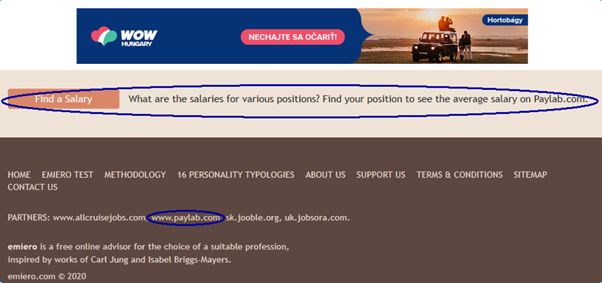 How you can become a referral partner?
Just write an email to [email protected] and introduce yourself:
What kind of website you provide? Let us know the name of your website.
What region are you targeting in?
Are you a representant of a company, entrepreneur, or an individualist?
When you want to start with our referral partnership?
There is no signed contract needed to start a cooperation. We just confirm the referral partnership by email.
How the reward is calculated?
There are several actions made by referral user rewarded:
Plus report is paid by new user who has never bought the report before
Pro report is paid by new user who has never bought the report before
Annual Salary tool is paid by new company who has never bought the tool before
| | | |
| --- | --- | --- |
| Action | Reward | Explanation |
| Plus report | 1.80 EUR | 20% of the Plus report price |
| Pro report | 9.80 EUR | 20% of the Pro report price |
| Annual Salary tool | 99.80 EUR | 20% of the Salary tool price |
How you get a statistic from referral program?
After every month you will get the information about the performance of your referral program.
When or how often the money is paid to referral partner?
The reward is reimbursed to the partner after every quarter or according our agreement.
What is our technical solution?
After we agree on cooperation, we will send you the referral_id (for example 1cacbc). Add this ID to any URL linked to Paylab.com as a parameter, for example:
https://www.paylab.com/?r=1cacbc
Based on this ID our system will know that your users are on our website. And when these users make any valuable action on our website, the reward will be assigned.
Feel free to contact us for more information: [email protected]
---