Paylab Diversity Study: Employees who work in mixed teams have fewer prejudices
12 February 2019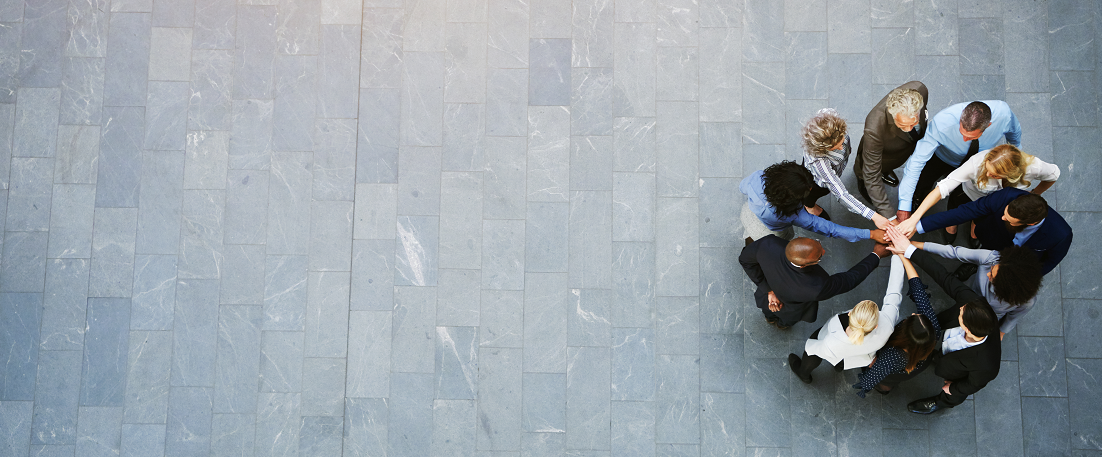 Employees who encounter a diverse mix of people in terms of age, origin and ethnicity, parenthood and physical disabilities at their current workplace have fewer prejudices and are more open to accepting those who are different from them. Workplace experience with diversity helps break down barriers. Those who experience diversity with respect to their fellow employees are up to twice as accommodating and open with respect to a positive perception of marginalised groups at work compared to employees who don't have the same workplace diversity. This was confirmed in all nine countries that participated in the international Paylab Diversity Study.
The study shows that mothers with small children were perceived the most positively from among the monitored groups, with the greatest inhibition being expresseded against people identifying as LGBTI and minorities.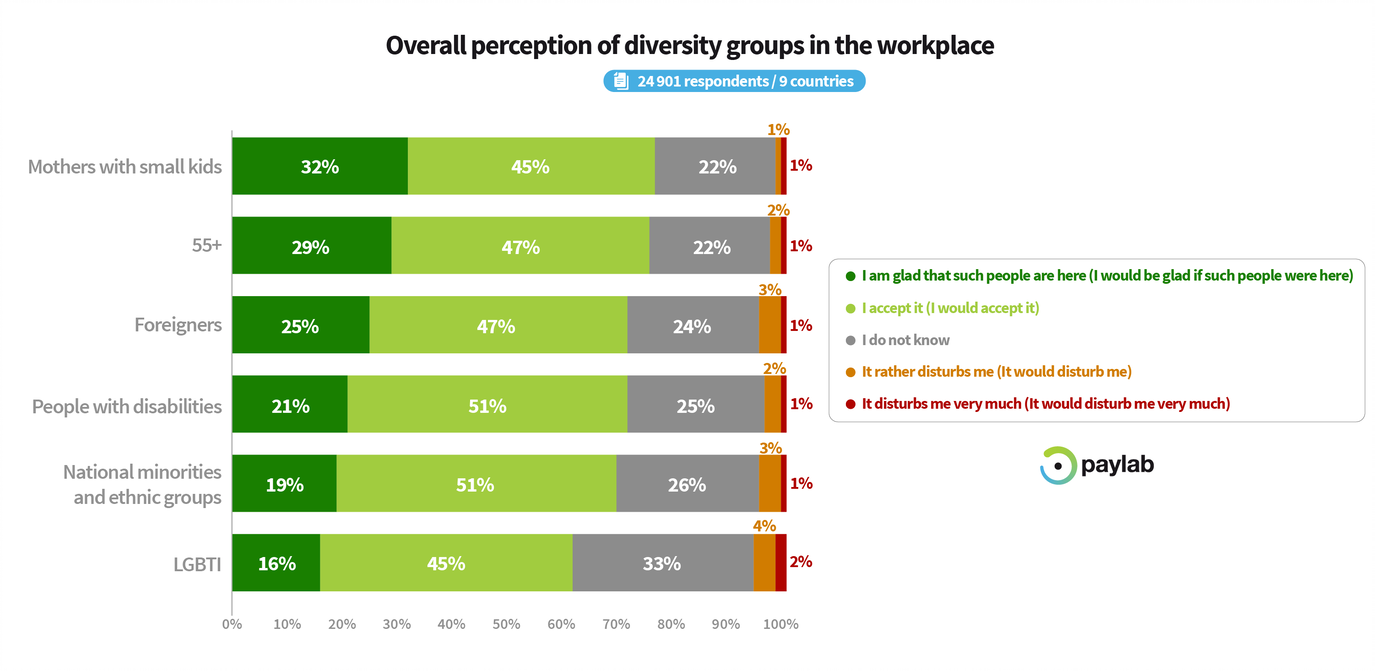 The survey was conducted over a sample of 24,901 respondents in 9 European countries (Finland, Central Europe, the Balkans and the Baltics) and mapped how employees perceive foreigners, members of minority and ethnic groups, the physically disabled, mothers with small children, employees over the age 55 and people with a different sexual orientation/identity. Paylab focused on 6 key areas: age, maternity, origin, ethnicity or nationality, physical disability and sexual identity/orientation. These aspects often represent a barrier to employment. The greatest advantage of the study is that it maps diversity directly through the eyes of employees working in different areas, at various levels and for employers of different sizes. Read more in which workplaces have employees diverse working teams.
We analysed the attitudes of those who encounter these individual groups at work and compared them to the attitudes of those who do not experience diversity at work. While those without any interaction with the monitored diversity groups were more restrained, people who do encounter such colleagues at work were much more open and positive. This trend was confirmed in all countries that participated in the survey.
The survey clearly shows that diversity at work breaks down barriers and encourages the greater receptiveness and acceptance of such people in society. The creation of an inclusive workplace and support for diversity are a part of the corporate social responsibility agenda in companies. It is employers who have the space necessary to develop cultivated relationships and mutual respect despite differences.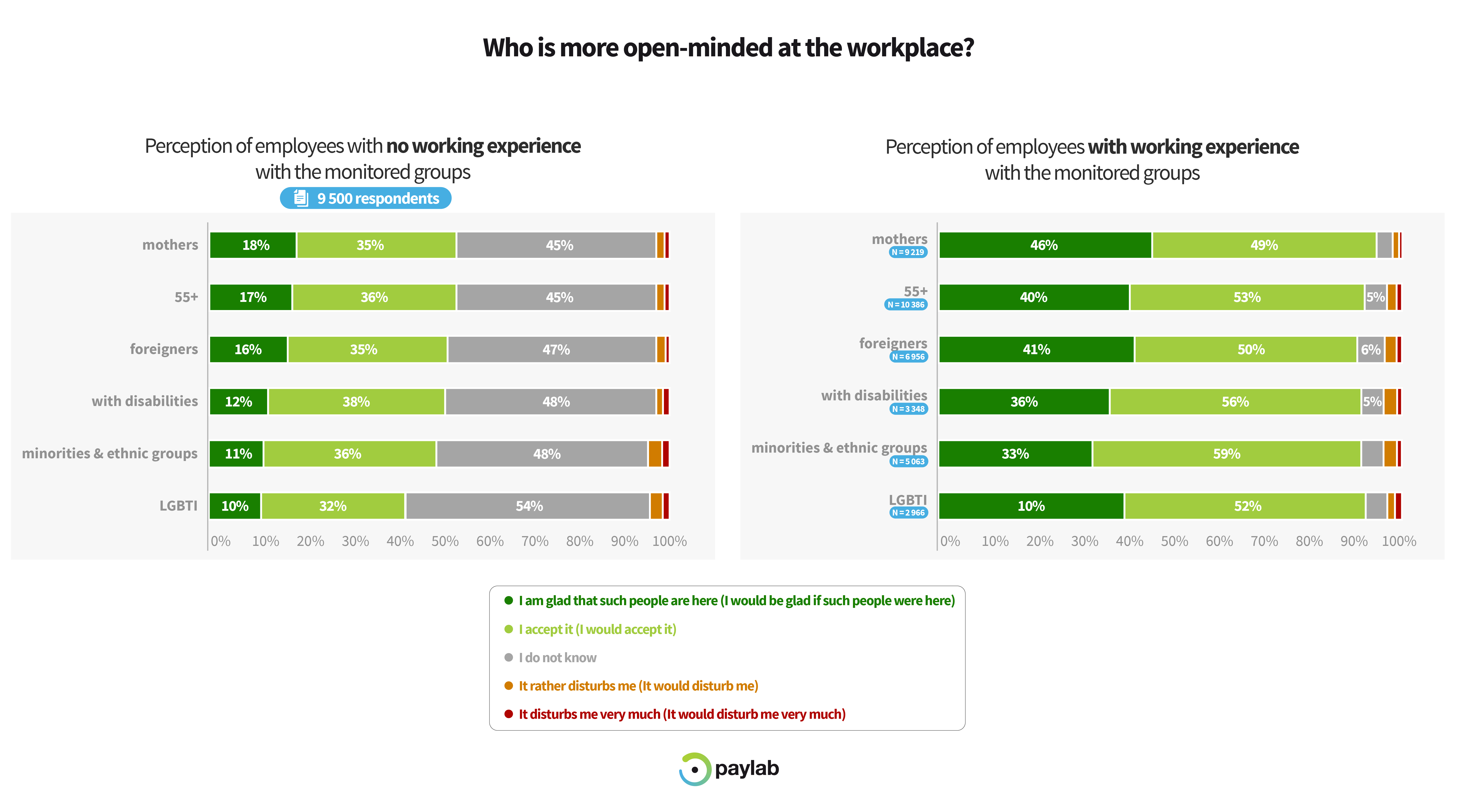 Mothers are perceived the most positively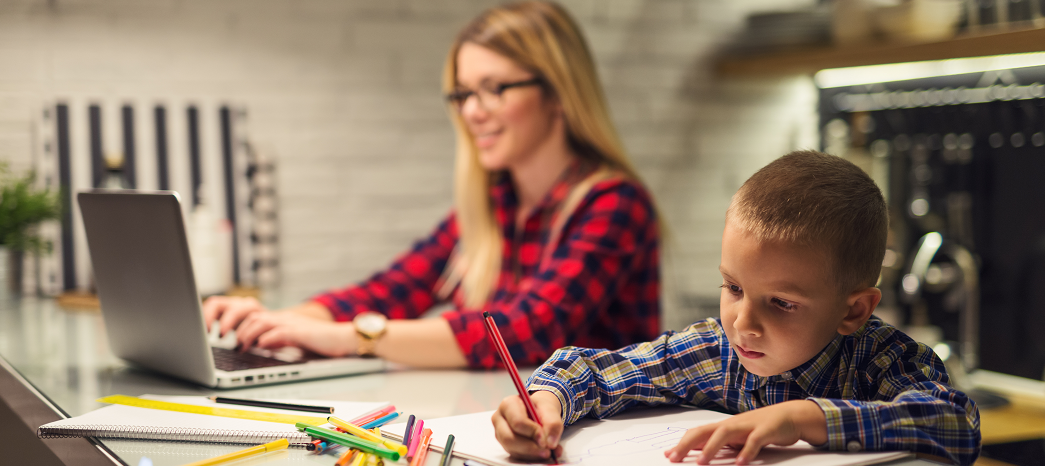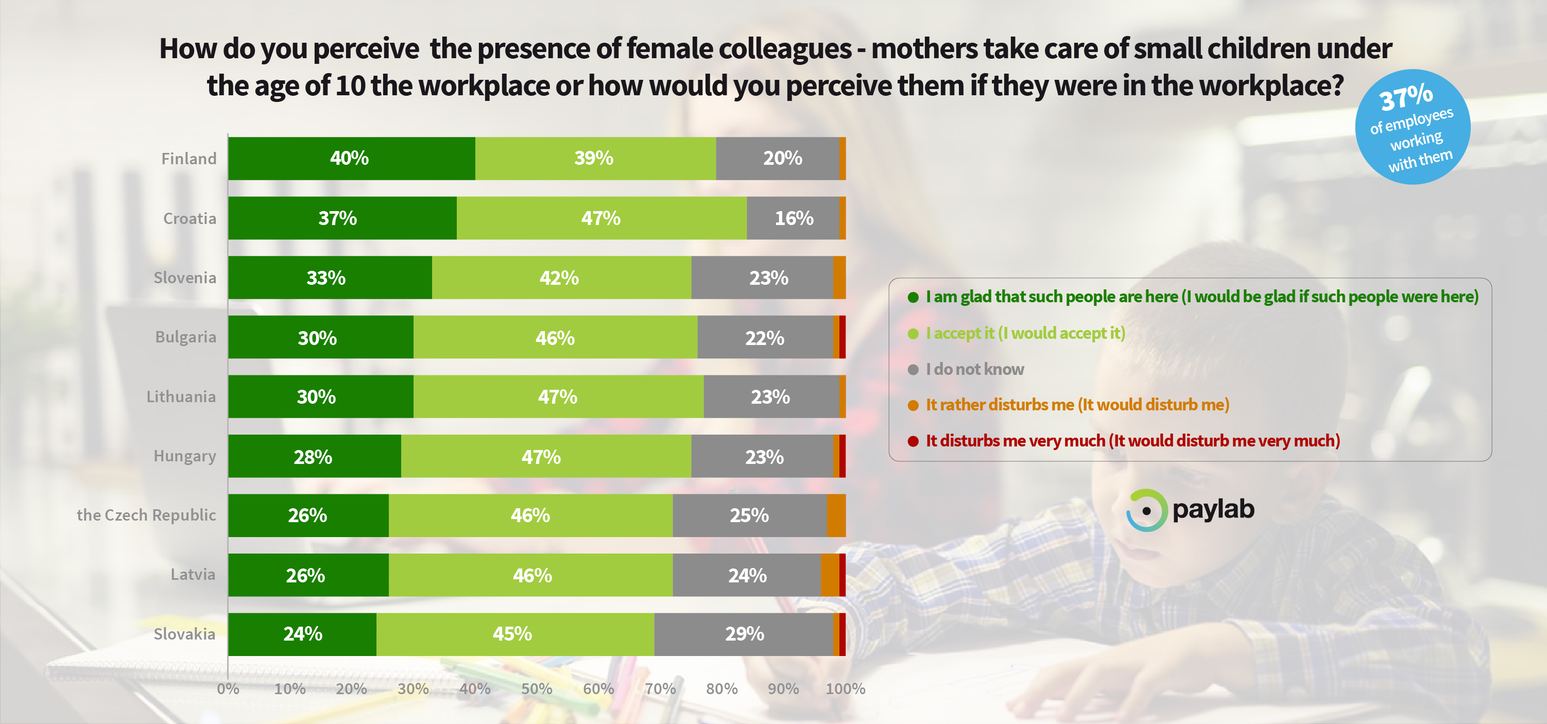 Mothers returning to the workplace face a number of challenges. The need to balance their family and work obligations often force women to take less than full-time employment, and they tend to aspire less towards management positions than their male counterparts. The Paylab survey shows that employees perceive their female colleagues caring for small children under the age of 10 the most positively of all the monitored diversity groups.
The level of openness from colleagues is highest for this group. Up to 32 per cent of respondents reported they were pleased to have such a colleague at work. Another 45 per cent of respondents accept them at the workplace. Only 2 per cent of people reported that their presence was an actual impediment. Finland and Croatia have the most open approach to mothers in the workplace.
Conversely, employees in Slovakia have the lowest level of acceptance towards mothers among the surveyed countries. Employees experience the lowest level of interaction with mothers at work in Slovakia and in the Czech Republic.
The greatest inhibition is against LGBTI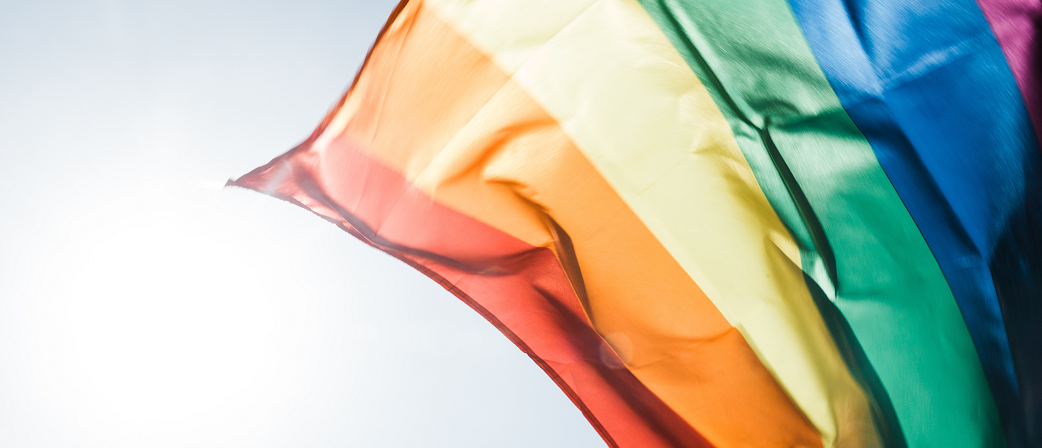 Persons identifying as LGBTI were accepted at half the rate as mothers, with only 16 per cent of respondents reporting that they are or would be happy to have such colleagues at work. Another 45 per cent accept or would accept them if they worked with them at work. Up to 5.4 per cent of respondents stated that they would find their presence at work obtrusive.
Finland had the most open employees with respect to those with a different sexual orientation, with up to 28 per cent of those surveyed expressing a positive attitude towards working with people identifying as LGBTI. Conversely, they have the lowest level of support in Bulgaria and in Hungary, where around 1 in 10 employees had a friendly perception of them.
It is necessary to emphasise that employees encounter those identifying as LGBTI in the workplace the least of all the monitored diversity groups. Only 12 per cent of employees have such interactions in the workplace. The greatest share of respondents who have work experience with this group is in Finland and in the Czech Republic
Colleagues older than 55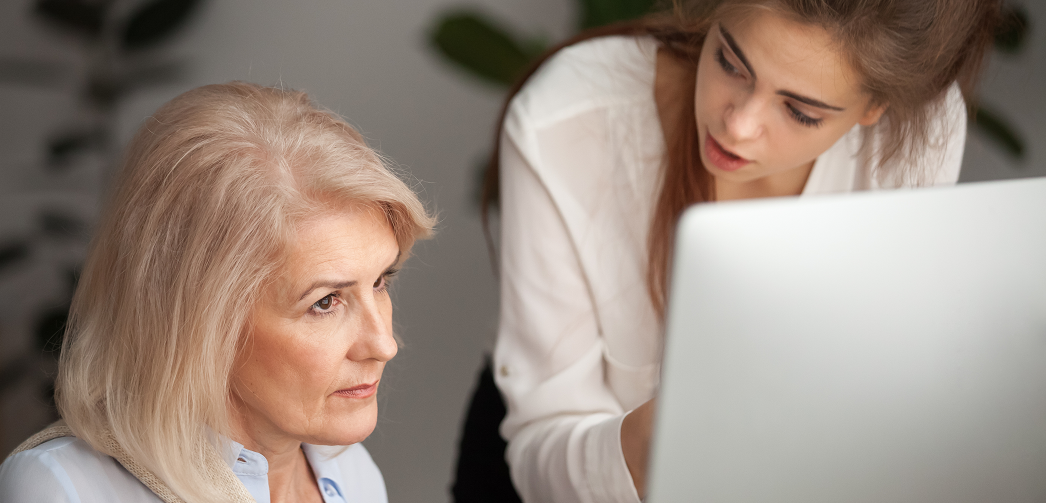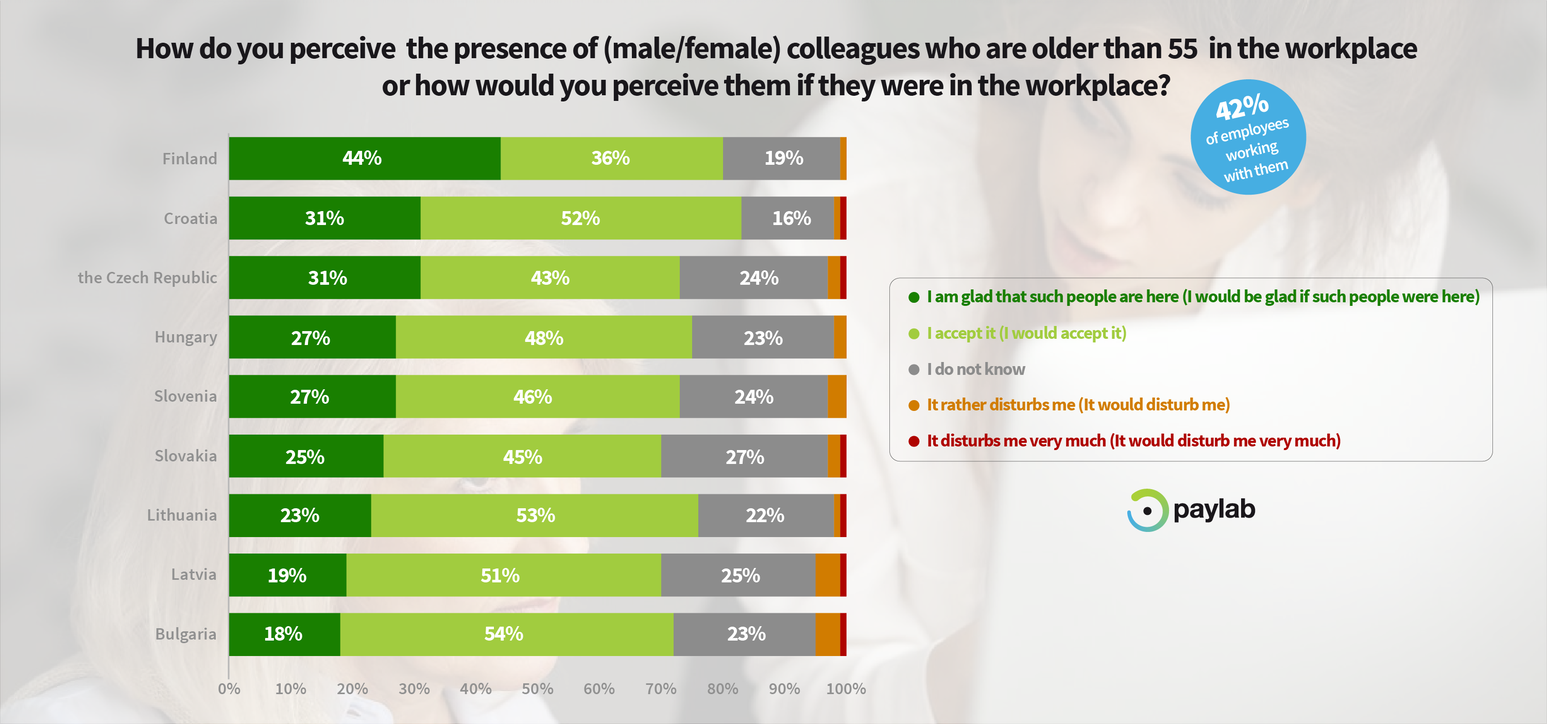 The population in Europe is ageing, and companies will be forced to confront an ageing workforce more frequently. Older employees bring a wealth of experience and often times a strong work ethic, but they must also train and learn constantly to keep pace with the times. They are often filtered out of the hiring process due to their age.
According to the Paylab survey, 42 per cent of employees encounter people at work who are a few years away from retirement. Three in ten employees have a friendly and accepting attitude towards people over the age of 55, and every other employee accepts them at the workplace. Around 2.5 per cent of employees think that they are an actual impediment in the workplace. Employees in Bulgaria and Latvia expressed the greatest reservations towards this group, with up to 5 per cent of those surveyed having a negative opinion of them. The most positive perception in the workplace for this group is found in Finland.
People with physical disabilities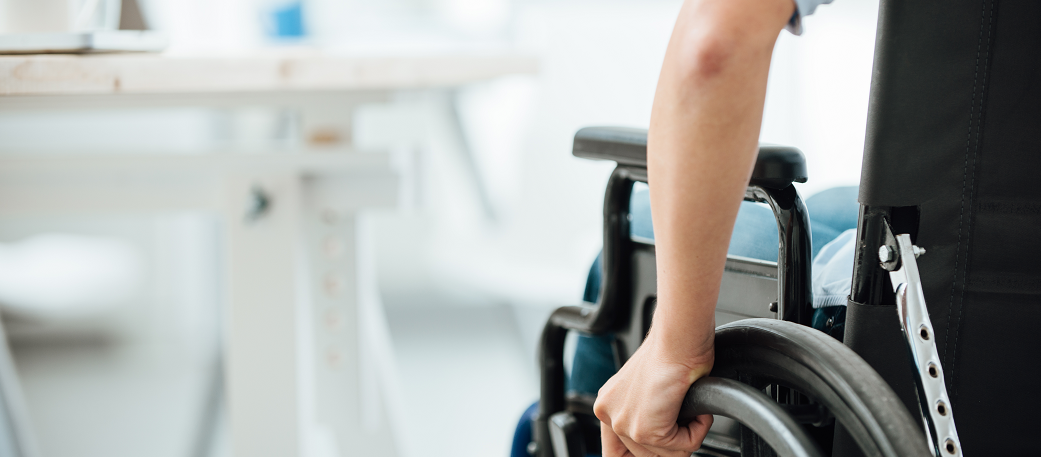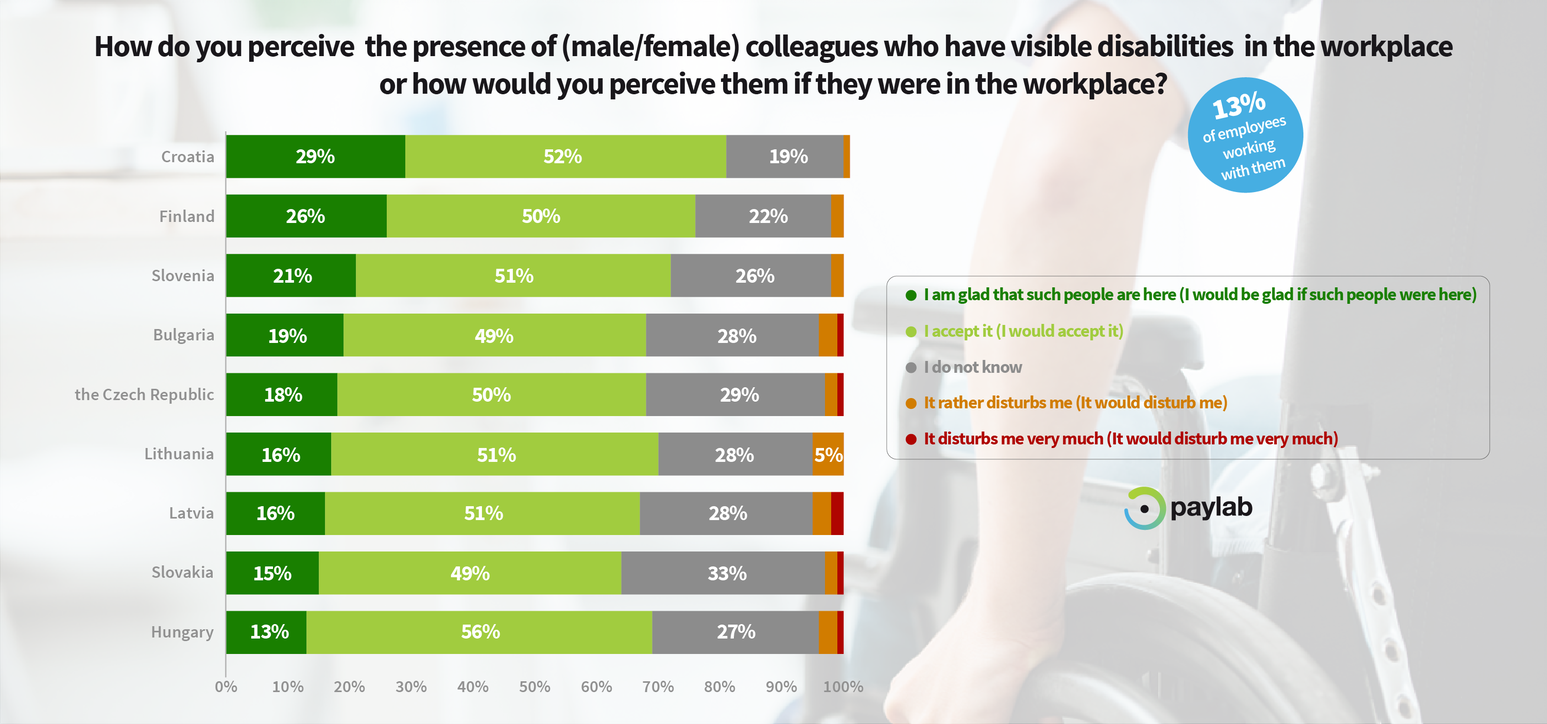 People who are physically disabled or with specific health issues often have limited employment options. This is related to the extent of their disability and barrier-free workplaces, which must be created and adapted to their needs. Only 13 per cent of employees come into contact with physically disabled persons at work. Around a fifth of respondents have an accepting attitude towards them.
Employees in Croatia and in Finland had the most open attitudes towards them. The most reserved approach towards them is expressed in Hungary and Slovakia. The largest share of employees who encounter persons with physical disabilities in the workplace is in Croatia and Slovakia.
Foreigners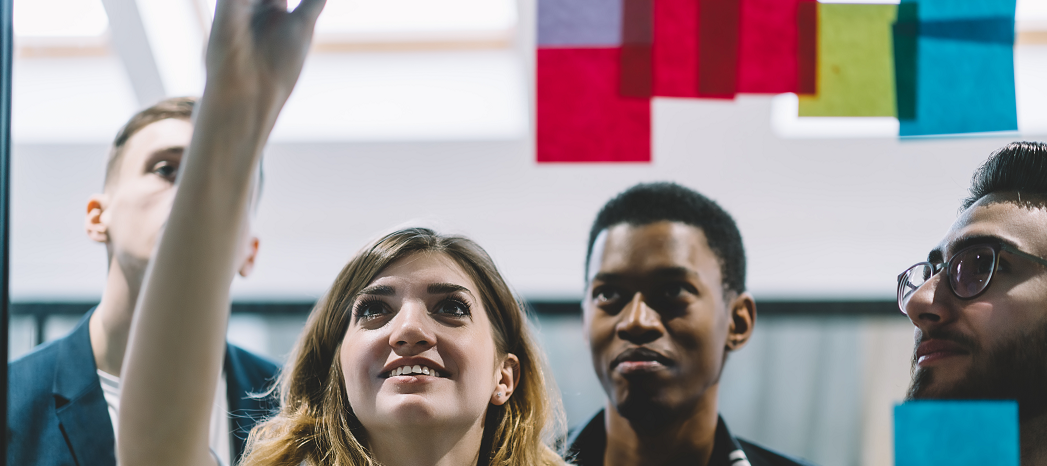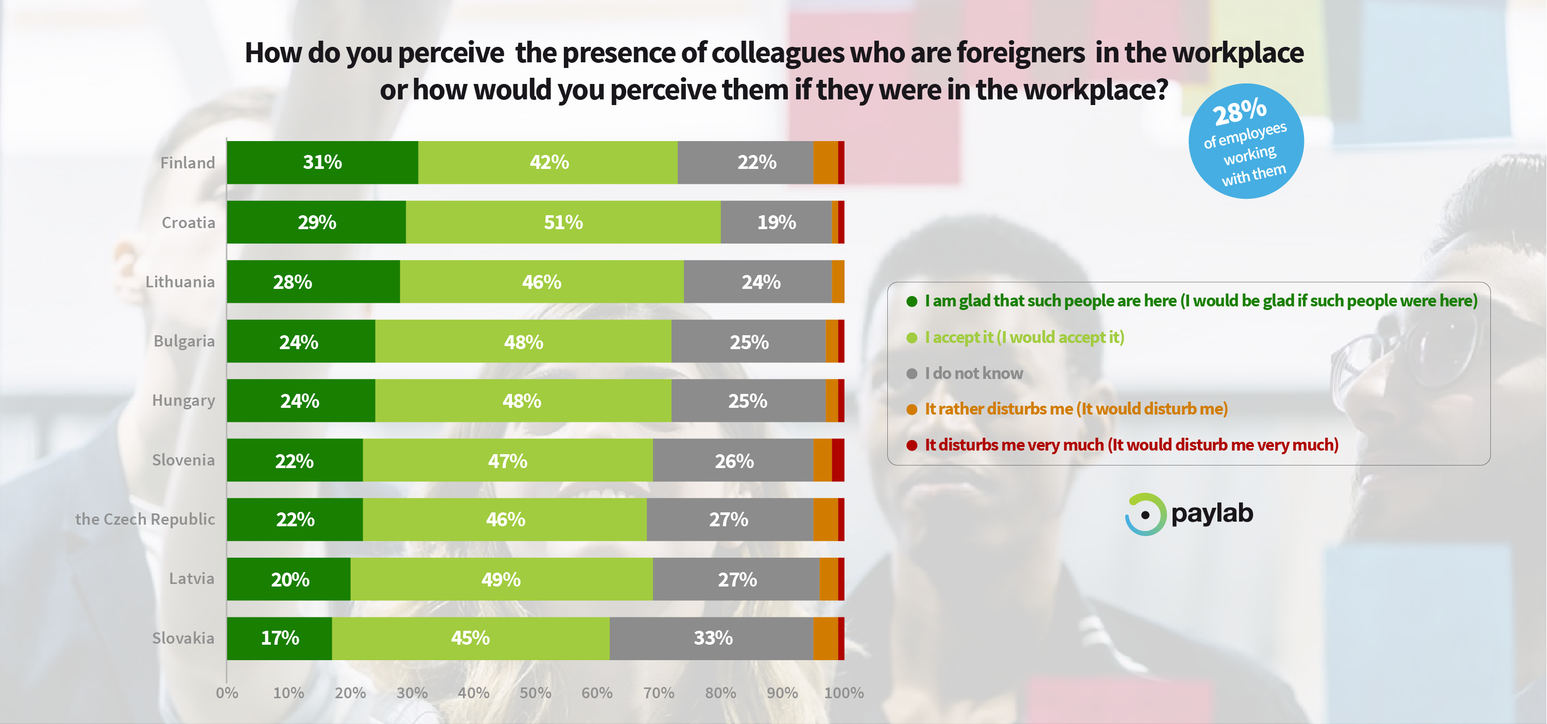 Globalisation and migration have naturally brought people with different backgrounds together in the workplace. Large corporations often give them the greatest opportunities for self-realisation. Differences in culture and language are an accompanying phenomenon.
Overall, 28 per cent of employees have work experience with foreigners. More than a quarter of those surveyed perceive them positively. Around 3.4 per cent of employees have a negative attitude towards them. According to the survey, employees in Slovakia have the greatest reservations with respect to foreigners in the workplace. Employees in Finland and in the Czech Republic encounter them the most often.
Minority and ethnic groups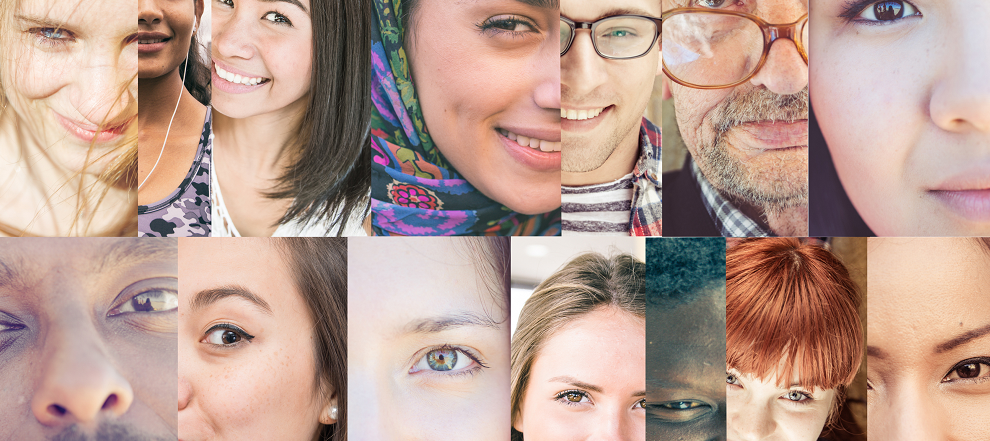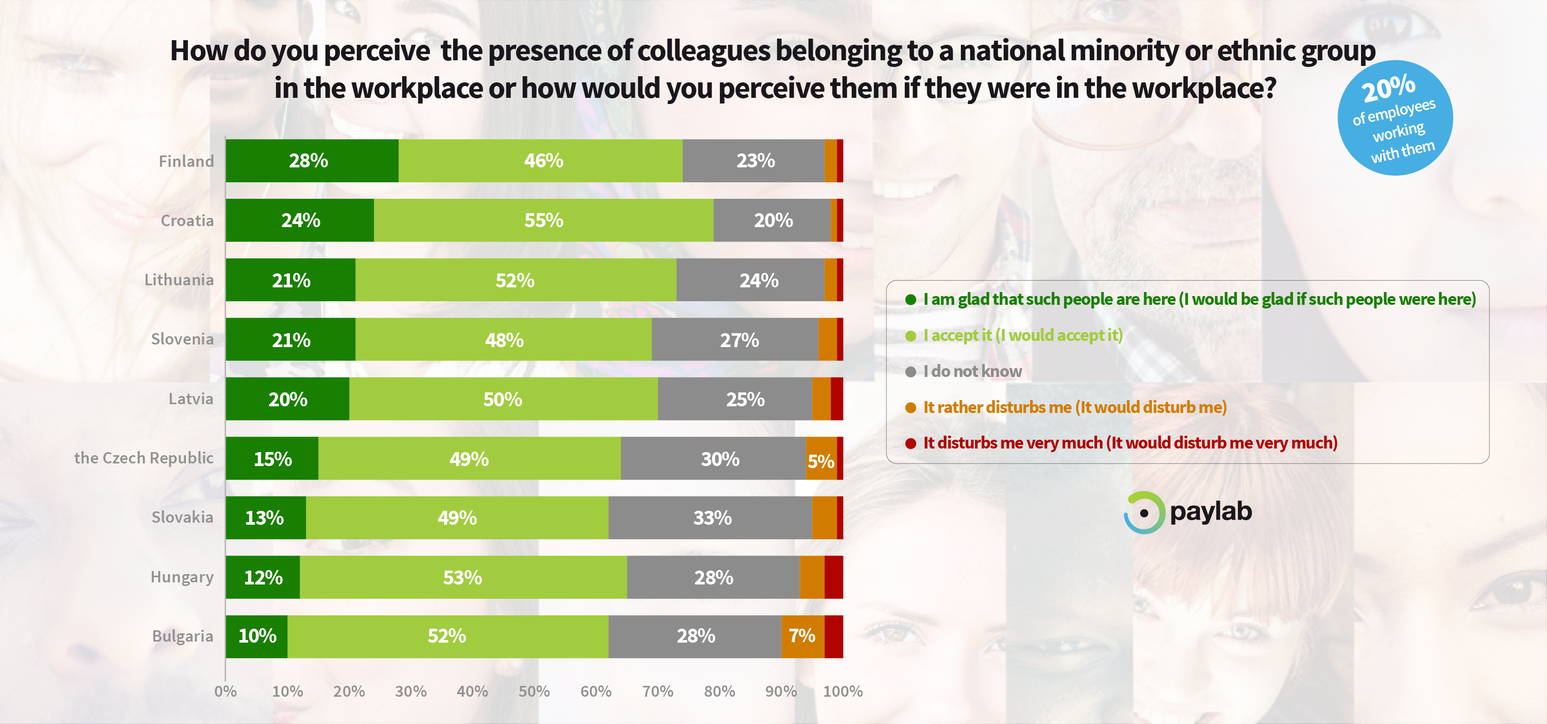 The integration of people from minority and ethnic groups largely depends on the composition of the population from country to country. Employees in Latvia encounter foreigners the most, while the least such encounters are in Slovenia.
Around 20 per cent of employees encounter them in the workplace. Overall, only 20 per cent of those surveyed report an accepting attitude towards them in the workplace, or if they would encounter them. A relatively large number of respondents were opposed to this group, up to 4.2 per cent of those surveyed. Bulgaria had the highest number of surveyed employees, up to 10 per cent, with a negative attitude towards foreigners. No differentiation was made between specific minorities or ethnic groups in the survey.
Read more in which workplaces have employees diverse working teams.

About the survey
Paylab Diversity Study was conducted in the second half of 2018 in 9 European countries over a total sample of 24,901 respondents. The objective of the survey was to map out real interactions at work with groups of employees who are often at a disadvantage on the job market and their level of acceptance at the workplace. In creating the survey, we collaborated with experts on diversity, and specifically with the non-profit organisation CVEK and the Slovak Academy of Sciences.
The following countries with local salary portals employing Paylab data collection methodology were involved in the survey: Bulgaria (2,359 respondents), the Czech Republic (2,678 respondents), Croatia (4,651 respondents), Finland (4,499 respondents), Hungary (2,605 respondents), Latvia (1,864 respondents), Lithuania (2,640 respondents), Slovakia (2,434 respondents), and Slovenia (1,171 respondents).
---