Finding The Perfect Spaces To Work At As A Digital Nomad
9 June 2022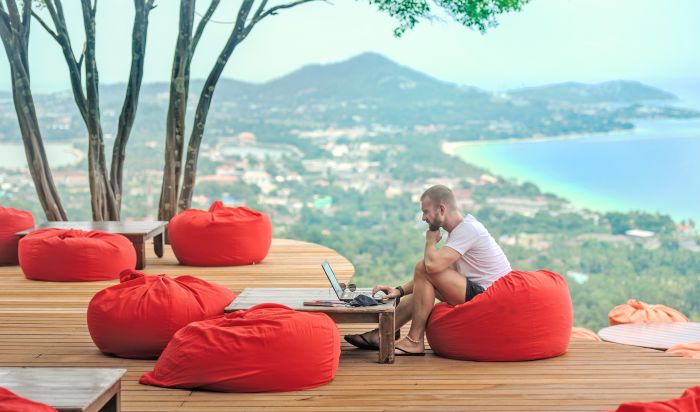 No matter the type of work you want to do during a given period, there will always be the desire to choose a comfortable environment that would allow you to focus maximally. You hear of several people working from supposedly idyllic spaces and locations ranging from beach clubs, the stands at a table tennis court, tents next to swimming pools, and other options.
People choose environments, where they can be productive and digital nomads, are no exception. Let us see some of those perfect spaces to work in as a digital nomad.
A library
A library is usually a place workers doing remote jobs might consider if they want to be away from the distractions at home. Libraries are known for their unique quiet nature. It would look absurd if someone was seen making a noise in a library. Nowadays, the emergence of the internet has made the library get abandoned. This would mean that libraries are even quieter than they used to be. So for someone who is a digital nomad, you will agree with me that you need to stay away from distractions as much as possible and so, a library will be a perfect place for you to do business. It is a perfect place to get your work done with absolute concentration and quietness.
Coworking spaces
This is usually the best option for anyone that has some job to do on a laptop. There are so many coworking spaces around the globe that are available with spaces for renting. As a digital nomad, you want to have access to all the things you can need from an office and this is where a coworking space comes in. You can work from anywhere even if you are just visiting the city for some other business. For example, if you are in Atlanta for some sightseeing, you can rent an office space in Atlanta out of the tons of options and still get to work when you are not having fun. You can do rents for a day, a week, or even months. It all depends on how long you need to complete a particular project you are working on or for how long you will be at a particular location.
Choose a park
Sometimes, working in a park may look absurd but it works for some people. Some people are not just used to the quiet environment. I once had a chat with a friend who says he does feel sleepy if an environment is too quiet. He said that if he had to accept a quiet environment, he would put on his headphones and treats himself to some loud rock music. There are other people like this and they would prefer to work in a place that has some activities going around. Though parks are not meant to be workstations for people who want to stay focused on an assignment. It works for some people and it is generally accepted as a place for boosting creativity. For the latter reason, it will be a good fit for digital nomads.
Co-living spaces
This is another great setting that is designed especially for digital nomads. A co-living space is a great communal housing solution that offers a lot more than just saving costs. It is a rental plan that gives an opportunity of meeting and connecting with others. With the new housing concept of co-living, the self-discipline of remote workers has been shaped efficiently. It can also cater to the very needs of digital nomads and so there are amenities like furnished rooms, the internet, and an environment that can support office work. Co-living spaces are externally regulating and disciplining spaces that can grant a digital nomad the opportunity to know about the environment and channel their intellectual energy outside of a regular office.
Final word
Becoming a digital nomad means that you want to keep moving from place to place while doing your job with the help of an internet connection and a laptop. The fact that you plan to be a nomad would mean that if you must work while traveling around, you will have to look for conducive environments to work. Some of the tips in this writeup can help you choose a perfect working space. Whatever place you choose, if it is not helping you give your best while working, you might want to consider changing your environment.
---