A higher salary continues to be the most important driver for changing jobs
13 February 2018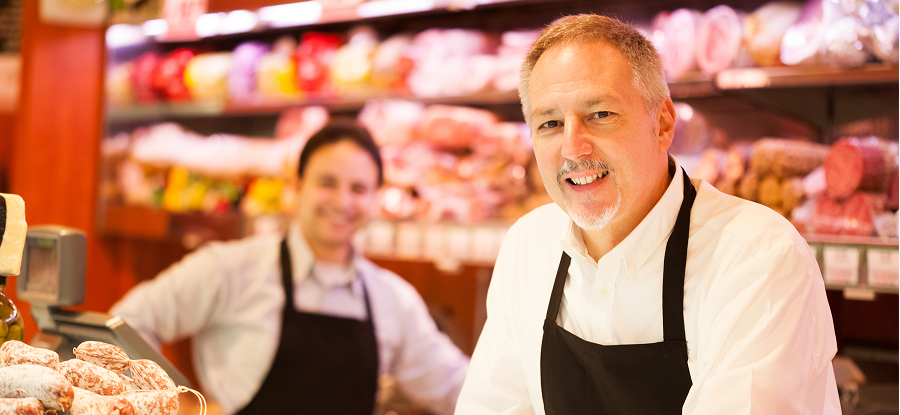 The most important criteria for employees when choosing a new job is clearly a better salary compared to what they currently earn. More money and financial benefits are the deciding factors for 63 per cent of employees when choosing between different jobs. A higher salary is the key criterion in up to three quarters of all cases involving those feeling underpaid. An attractive job description is the second most important factor considered when making a career change decision. More engaging work is a strong motivating factor for change for those who are satisfied with their current salary. This is associated with the third strongest criterion, an inspiring and stimulating environment, where an employee can make the most of their knowledge and skills.
These findings come from the latest international employee survey conducted by the Paylab.com portal. The Salary Satisfaction and Preferences survey was conducted in November and December 2017 over a sample of 41,321 respondents in 10 European countries. It is an integrated part of the Paylab Data Research, which regularly monitors trends in remuneration and employee behaviour.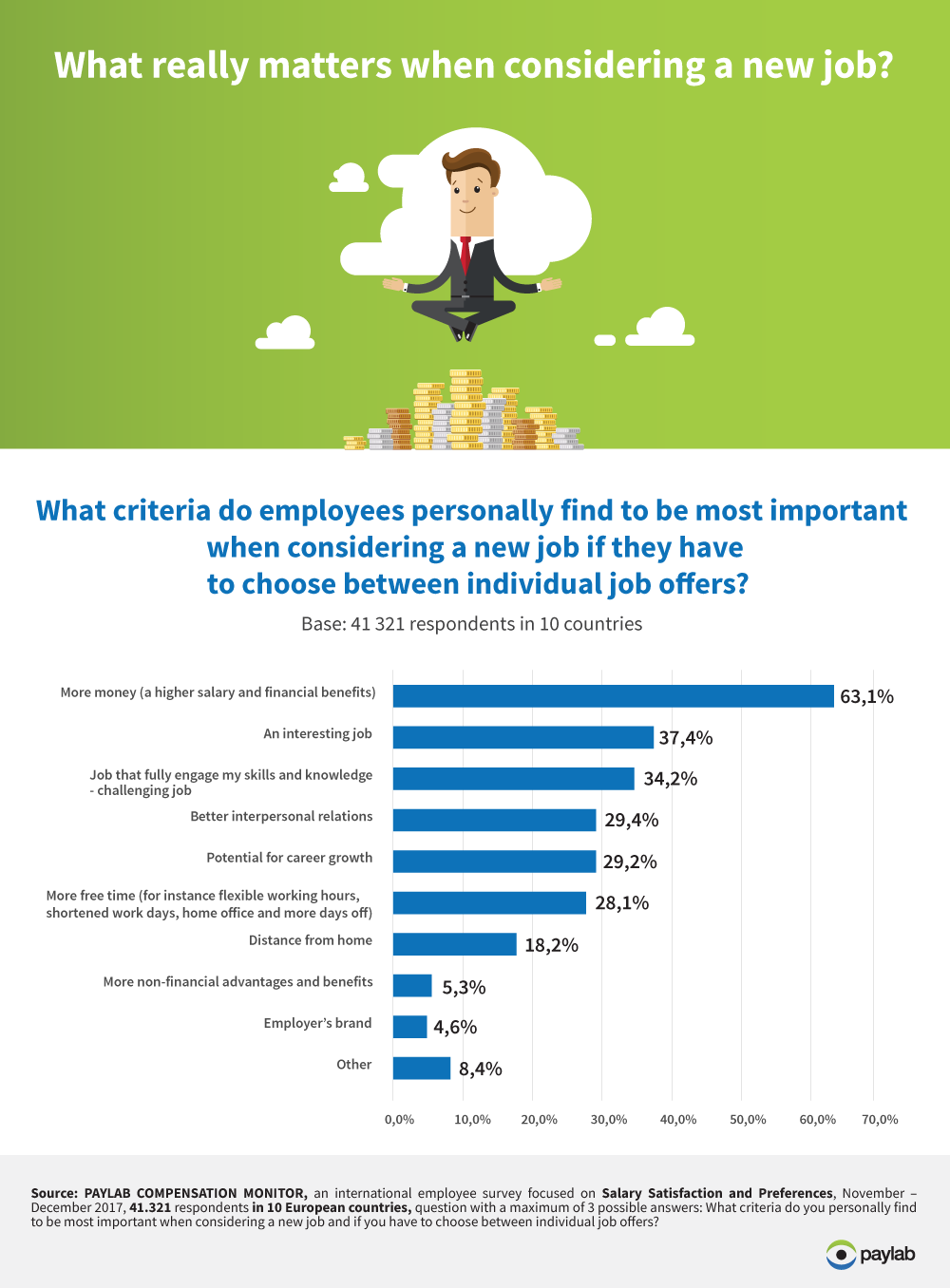 A career change has to be worth it for an employee - especially financially
1. What's in it for me?
2. Is the work I am going to do stimulating enough for me?
3. What are my opportunities for self-realisation in a specific environment?
In summarising the results of the survey, these were the key questions for which employees placed the highest priority. Respondents reported these questions most often when choosing between multiple jobs. A career change has to be worth it for an employee - especially financially. Paylab prepared a list of sectors in which salaries are the highest as well as a series of videos with tips for negotiating a salary and working conditions.
Many employees did report different areas they considered as the most important criteria when making these decisions. Better workplace relationships compared to those at their current place of employment were reported as key by three in ten employees. Women were a bit more responsive with respect to this specific criterion. For the same number of people, the potential for subsequent career growth was an important selection criteria. For 28 per cent of employees, the fact that a company offered time flexibility, in the form of flexible business hours, home office, a greater number of days off or part-time work, is a notable factor. Women take this benefit into account a bit more often. The second group of important questions when considering a job include:
4. Who will I work with and what type of workplace relationships are predominant?
5. What specific opportunities will I have for my own personal development and growth?
6. Will I have time for my family and personal interests outside of work?
Commuting distance is another notable criterion involved in the overall decision making process. This criterion is an essential element for 18 per cent of respondents, and women once again were at a slightly higher rate (21 per cent of women, compared to 16 per cent of men). Around 5 per cent of employees make their decision based on the specific non-financial benefits offered by an employer. An employer's brand and the prestige of working for the employer are key for 5 per cent of people. Employer brand is of a bit higher concern among people in lower and middle management (7.3 %) and in top management (8.4 per cent). Less frequent questions asked by employee in the selection process include:
7. How long will my commute be?
8. What other non-financial benefits does the employer offer?
9. How prestigious is it to work for the employer's brand?
Employees often use salary surveys as a source of information to help determine their current market value with respect to their current, or future, job.
Paylab's survey also monitored how employees evaluated their own income. Only a fifth of employees in the Baltics (Estonia, Lithuania and Latvia) and a quarter in Central and Southern Europe (Czech Republic, Slovakia, Hungary, Slovenia, Croatia and Serbia) are convinced they receive adequate compensation for their work. Employees in Finland expressed the greatest satisfaction, where every second employee considers their income to be reasonable. Read more about their salary perception.

Conversely, every second employee in the Baltics and in Central Europe considers their income as inadequate for the job they perform. Employees in Slovenia and Lithuania expressed the greatest dissatisfaction with their salaries, with 6 in 10 employees considering their salaries to be inadequate. Employees in Finland expressed the lowest level of salary dissatisfaction, with four in ten employed Finns feeling under compensated. Read more about the survey results in the article: Changing job still the most preferred strategy for employees seeking to increase income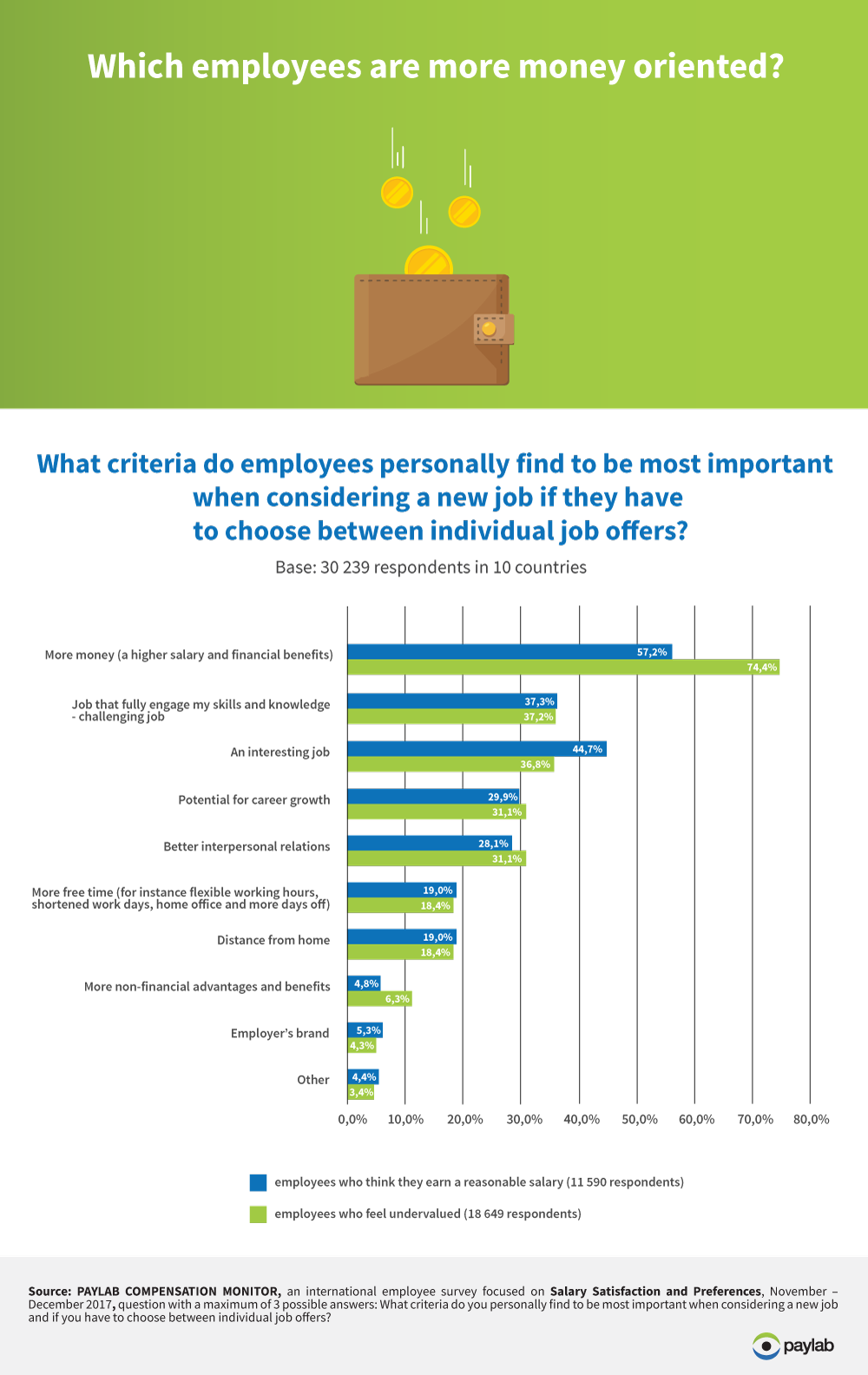 About the survey
An international Salary Satisfaction and Preferences Survey was conducted through Paylab Data Research tool in 10 countries across Europe on a total sample of 41,321 respondents (34,065 respondents with real salary). It is part of the Paylab Compensation Monitor, which regularly monitors trends in employee preferences and remuneration in Europe. Data collection was conducted in November and December 2017 through localised salary portals: the Czech Republic - Platy.cz (7354 respondents), Slovakia - Platy.sk (8485 respondents), Hungary - Fizetesek.hu (4174 respondents), Slovenia - Placa.si (2966 respondents), Croatia - MojaPlaca.hr (4260 respondents), Serbia - InfoPlate.rs (1127 respondents), Estonia - Palgad.ee (1596 respondents), Lithuania - Manoalga.lt (2825 respondents), Latvia - Algas.lv (1702 respondents), Finland - Palkkadata.fi (6832 respondents).
---